Ensure the right people in your organisation have access to the right information with our new access groups. Now, with complete flexibility, you can set permissions and set up Mopinion to keep private information private, enable access to certain areas and restrict parts of the Mopinion platform. Integrating feedback into your organisation just got a whole lot easier thanks to the release of this advanced user management system. Sound good? Keep reading to find out more.
---
Advanced user management
Adhering to strict data and privacy regulations continues to be a high priority these days, so companies like yours need to ensure they can effectively protect their clients' data. With access groups, you can guarantee that the right teams can access the right information. No more, no less.

We understand that we serve many different users with very different goals. Feedback is a great tool that can benefit virtually all stakeholders and departments, for different reasons. So, in order to cater to all the different needs of your different roles and teams and to help you protect sensitive information, we've introduced Access Groups.
So, what are Access Groups?
An access group is a group of users who have certain permissions, or access rights to certain reports and functional areas of Mopinion. With this new setup now live, we created three default access groups where your current users will be. Check them out below.
Owner access group: this is for team leads, or executives, as the members of this group are able to manage all users, create access groups and have access to everything-including the billing information.
Admin access group: your existing admins will be added to this group. This group is once again for team leaders, or anyone who can be trusted to create and manage users and access groups, but do not need access to billing.
Editor access group: existing Mopinion users in your account (non-admins) will automatically be added to this group. Admins and owners can customise the specific roles and access rights of this group.
Note: The owner and admin group have a default set of rights which cannot be adjusted, additionally they have access to all reports. Only users in the owner group can edit which users belong to the owner group. Both owners and admins can add or remove users from the admin group.
This is what you'll see initially, though you can set up as many access groups as you need (if you have permission).
How to create new access groups
Creating a new access group is easy. All you have to do is navigate to the user management section , (previously labelled 'Users'). Here you'll see an overview of the existing access groups, and an overview of current Mopinion users.

To create a new group, select 'create new access group', pick a name for the group (e.g. Sales Team) and select which report(s) you'd like this group to have access to.

Next you can select which access rights members of this group will have. This part is highly customisable, and you can enable edit, view or disable access to certain parts of the platform. After that you can add users to the group, both new and existing. By the way, you can also create a group, save it, and add users later on.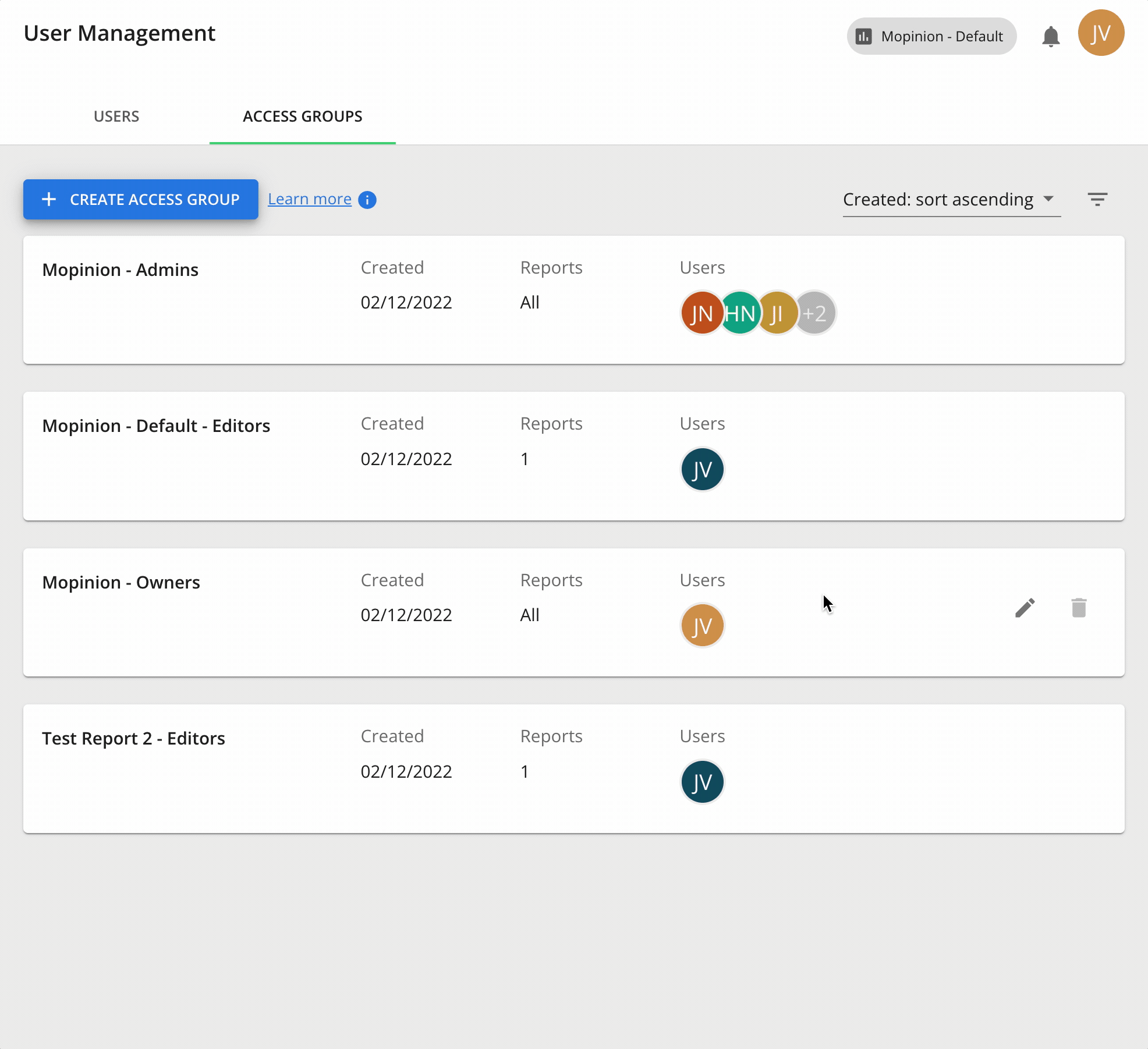 With great power comes great responsibility
To prevent an overlap of groups, you should think about your goals, or what you want to do with the Mopinion platform, and how you'd like to integrate Mopinion into your organisation as a whole. Consider who really needs access to what information, and ensure you protect critical information and private data.

Some ideas for setting up access groups would be by team, by role, by country or region, or by goal e.g. sales data analysis.

Another option would be to create a group for new colleagues titled 'Onboarding'. Select relevant reports and only enable viewing rights to the platform. This will allow new users to learn about the platform piece by piece.

You could also set up a group titled 'Designers', for your design team. Create the group, give users access to all reports, and enable edit rights to the design part of the form builder, and disable access to the rest of the platform. Add your design team and let them get to work.
Stay tuned for more
Well there you have it! Set up access groups in Mopinion now to make the most of this new feature. Once set up, you can ensure the right people in your organisation have access to the right information with access groups. No more, no less. Keep your eyes on the Mopinion blog for more details on how best to set up access groups to drive your organisation's goals.

Here at Mopinion, our team of customer success managers are always happy to help you. So, if you're unsure, be sure to contact a team member to help you get started with access groups, or check out our knowledge base.