The release waves just keep rolling in … Perhaps you've already noticed that we're shipping lots of new features before the summer holidays. If you weren't swept away by the first (Native iOS SDK) or second (Direct Insights) release waves, hold tight because the third one is on its way: Single Sign-On (SSO) for Microsoft Azure. So grab a cool glass of your favourite drink and get ready.
---
Starting today, you can set up Single Sign-On in Mopinion for all your Microsoft accounts. Simply put, this new functionality enables you to log in to your Mopinion account using your (corporate) Microsoft account. If you are logged into your company network that runs on Microsoft, it allows you to log in automagically to Mopinion with a single click, without the need for separate Mopinion usernames and passwords.

Although we already supported SSO for Google accounts and some custom customer-specific setups, we now offer a native SSO integration for Microsoft accounts. Out-of-the-box, good to go. Ready when you are.

We have chosen to build this integration on the Microsoft Azure Active Directory (AD) cloud environment, which is widely used for identity management by companies running on Microsoft.

SSO, come again?
If you haven't heard about SSO before, imagine having a special key that can unlock many doors without requiring separate keys for each one. That's exactly what Single Sign-On (SSO) is like. It's a way for a trusted friend, in this case Microsoft, to vouch for you when accessing different websites or apps, such as Mopinion. You no longer need to remember different usernames and passwords for each place.

Microsoft creates a special pass, called a token, that contains important information about you. Mopinion knows it can trust the token because it comes from your Microsoft environment. Of course, this all happens in the background. So, once set up properly, SSO allows you to easily and securely access Mopinion with a single click.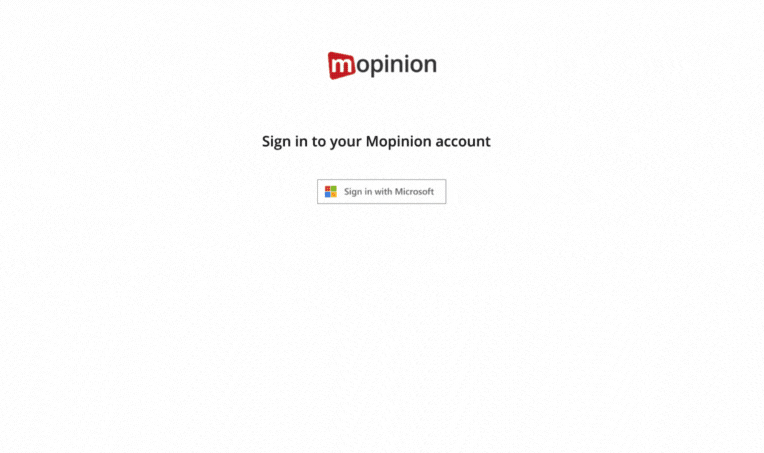 It also increases security by automatically ending access for employees who leave your organisation, making user management easy, secure, and hassle-free. That's why your IT crowd will probably love it too…
More on Azure and Active Directory
Microsoft Azure is a cloud computing platform by Microsoft. It offers various services for building and managing applications. Azure includes Azure Active Directory (Azure AD), which acts as an identity provider, allowing users to securely access different applications and services using a single set of credentials.

Azure AD helps manage user identities and provides features like authentication, authorization, and access management. It's a valuable tool for organisations to ensure secure access and streamline user management in their Azure environment.

So, if you run on Azure AD, you should definitely give this new integration a try. Do you use Azure? We're not sure. If you work at a larger corporation, it's likely that you do. And if you use tools like Microsoft Teams, the chances are very high it runs via Azure AD. But it's probably best to ask your IT department. (You know, we mean those folks in the back of the building, dimmed lights, sticky notes on the wall, and funny t-shirts … Actually the ones that make all the magic happen …)

Why would I need this?
You might want Single Sign-On for several reasons. The main one of course is that you can brag about it to your friends and family at birthday parties. Obviously!

But, next to bragging rights, there are some other benefits as well:

Convenience: SSO allows users to access multiple applications and services with just one set of credentials. This eliminates the need to remember and manage multiple usernames and passwords, making it more convenient for you to access various systems
Productivity: With SSO, users can quickly and seamlessly move between different applications without the need to repeatedly enter login credentials. This improves productivity by saving time and reducing frustration associated with multiple logins.
Security: SSO can enhance security by implementing centralised authentication and access controls. It enables companies to enforce strong password policies and implement multifactor authentication, reducing the risk of unauthorised access and data breaches.
User Management: SSO simplifies user management for IT departments. When an employee joins or leaves the company, their access can be easily granted or revoked from one central location, reducing administrative overhead and ensuring proper access control.
Compliance: SSO can help companies meet regulatory compliance requirements by providing a central point for managing user access and enforcing security policies across multiple applications. It allows for better auditing and monitoring of user activities.
Our native SSO integration with Azure is ideal for large enterprises that have many user groups and more specific needs for security.

Mopinion's very own Thomas Verwijst, Senior Backend Developer, was active on building this latest SSO functionality brick by brick and leading the project from the development side. (Kudos for him!) Let's see what he has to say about it:

"Implementing SSO for Microsoft Azure environments is a game-changer for our clients. With SSO, our users can seamlessly access Mopinion using their trusted Microsoft accounts. It's a win-win for any user and their IT department, making access to Mopinion smooth, secure, and hassle-free."
So, what's not to like about it?

Ready to activate now
SSO for Microsoft Azure is available to all Mopinion customers with an Enterprise licence. There are no ongoing additional costs. However, depending on the scope and size of the implementation, it might cost some additional resources on both sides to set it up. These are one-off costs, depending on the level of assistance and advice you might need. And once you have it running, you never want to go back!

You can easily access and request SSO via the User Management section in our platform.

So when you are logged in, just visit Settings via the main navigation, click on User management, and then go to the SSO block.

In short: Settings > User Management > SSO

Of course to make this work you will need a valid Microsoft Azure AD tenant and an active subscription with appropriate permissions to configure the integration. Mopinion provides detailed documentation, guides, and developer resources to assist you in implementing this native SSO integration.

Alright, hope you are just as enthusiastic about this as we are. Now to sum it all up:

Mopinion Single Sign-On (SSO) for Microsoft Azure environments is now available for all Mopinion customers with an Enterprise licence, with no ongoing additional costs.
It allows you and your colleagues to log in to your Mopinion account using your Microsoft account, eliminating the need for separate usernames and passwords.
It enhances security, simplifies user management, and increases productivity.
Setting up SSO may require some one-time resources, but the benefits make it worthwhile.
Access and request SSO through the User Management section in the Mopinion platform.
That's all for now, folks. Feel free to reach out if you have any questions, and stay tuned for our next upcoming releases.
Ready to see Mopinion in action?
Want to learn more about Mopinion's all-in-1 user feedback platform? Don't be shy and take our software for a spin! Do you prefer it a bit more personal? Just book a demo. One of our feedback pro's will guide you through the software and answer any questions you may have.