We've just released a brand-new unique feature called Direct Insights, the easiest and fastest way to analyze all your incoming feedback.
---
With just one click, you'll now have instant insights from your feedback forms. You heard that right – it's that simple. We've completely automated the process of creating a unique dynamic dashboard per feedback form, filled with the most relevant charts. So you can sit back, relax, and let our software do all the work for you.

Direct Insights takes feedback analysis to a whole new level of convenience. It shows you all the results of your forms in a neatly ordered and easily digestible format. If you feel like seeing insights right away, without any effort, this new feature is perfect for you. With Direct Insights, charts are created for you automatically as soon as you build your feedback form. Our platform creates charts that fit your feedback questions the best, looking at the type of question (NPS, Goal Completion Rate, Star rating, Multiple Choice, etc.). It's like having your own personal data assistant on standby.

So, how does it work?
A new section has been added to our Reporting section called Direct Insights. As soon as you collect feedback through our forms, Direct Insights generates the most important charts for you. Instant insights, right in front of your eyes.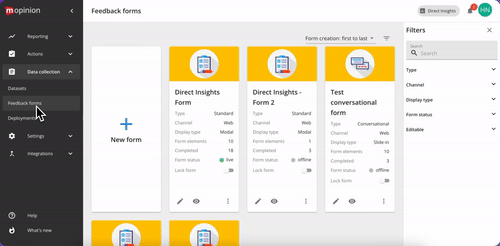 You don't need to be a data wizard or a chart guru to understand the information. We've made sure that the charts are clear, concise, and easy to interpret. They highlight the key results and patterns so you can quickly grasp the pulse of your customers.

And here's the best part – it's all fully automated. You don't have to spend precious time and energy manually sifting through data, trying to make sense of it all. Direct Insights does the heavy lifting for you, so you can focus on what really matters: taking action and making improvements based on the feedback you receive.

But wait, there's more! Direct Insights doesn't just stop at creating charts for you. It's smart enough to update your unique form insights automatically whenever you make changes to one of your feedback forms. So you always have the most up-to-date insights at your fingertips.

And that's not all! We've added some nifty features to make your feedback analysis even more seamless. With our quick date select option, you can easily switch between viewing charts per day, week, or month.

Customize to your needs
Want to dive even deeper into specific insights? No problem! You can copy interesting charts from Direct Insights directly to your custom dashboards, where you can tweak and adjust them to your heart's content. Of course all the existing features of our extensive custom chart and dashboard builder will remain available.
Also included are some cool metadata charts, for example on which URLs the most feedback has come in. It's all about giving you a comprehensive view of your feedback data, so you can make informed decisions.

Oh, did we mention the corresponding colors for specific scores like NPS (Net Promoter Score) and GCR (Goal Completion Rate)? These visual cues play a crucial role in easily understanding feedback, so we've made sure to provide you with a visually appealing and intuitive experience.

Feedback analysis for everyone
Whether you're a marketer, a product manager, or working in any other role where feedback is key, Direct Insights is designed for everyone. We believe that valuable insights should be easily accessible to all, without any technical barriers. That's also why Direct Insights is available for all our packages.

Now you have even more options to analyze your incoming feedback with Mopinion:
Custom dashboards – Extensive and advanced options to build charts and dashboards to your requirements, giving you all the freedom you need.
Data Explorer – Manually build and test new charts and find new insights
Text Analytics – Get quick insights of your incoming open comment feedback
NEW Direct Insights – effortless, automated feedback insights per feedback form
Direct Insights, the new way of analyzing feedback, will help you unlock the full potential of your feedback. We're thrilled to be able to provide you with a feature that simplifies and streamlines the feedback analysis process, saving you loads of time and effort.

Go ahead and log in to your account to experience the power of effortless feedback analysis. Dive into Direct Insights now!
Ready to see Mopinion in action?
Want to learn more about Mopinion's all-in-1 user feedback platform? Don't be shy and take our software for a spin! Do you prefer it a bit more personal? Just book a demo. One of our feedback pro's will guide you through the software and answer any questions you may have.