We're just a month and a half out from launching Mopinion Raspberry, and it's time for another sneak peek into the new user interface. In this five-part series, we will 'unmask' various new components of the software one by one; components that are guaranteed to give you a smooth and lucid user experience.
---
Our last post, 'Unmasking Mopinion Raspberry Part 1' featured the new Navigation and Quick view Sidebar, but this time we want to focus on another very important part of the interface, the Feedback Form Builder.



Still from our video, Sneak Peek into the Mopinion Raspberry

Let's get started.
A Five-Part Introduction Series
This blog series will introduce the five main components of Mopinion Raspberry – the new user interface – identifying the benefits that these new and improved components will bring to the user as well as some teaser footage:
The Navigation
The Feedback Form Builder
The Feedback Inbox
The Dashboard & Text Analytics
The Data Explorer & Chart Builder
Now let's get started with unmasking the Feedback Form Builder.
---
Unmasking the Feedback Form Builder
Mopinion has completely redesigned the feedback form builder, enabling a live preview of your feedback form while you edit. Having reduced the number of menus our users have to click through to build and edit a feedback form, this feature is now much more interactive and intuitive.

Additionally, the new Feedback Form Builder includes:
A drag-and-drop editor, which enables users to reorder form elements (i.e. scores and question types) as well as display how pages are grouped separately (i.e. section breaks and page breaks).
Add question logic to feedback elements. In fact, the interface for adding logic has been vastly improved and is now much more intuitive.
Edit form display (i.e. Modal, Slide-in, and Embedded), tracking (i.e. form metrics and Google Analytics) and translations.
The design menu is now built into the form builder. In other words, the same 'point and click behaviour' which makes the form builder so great has been applied to the design section as well.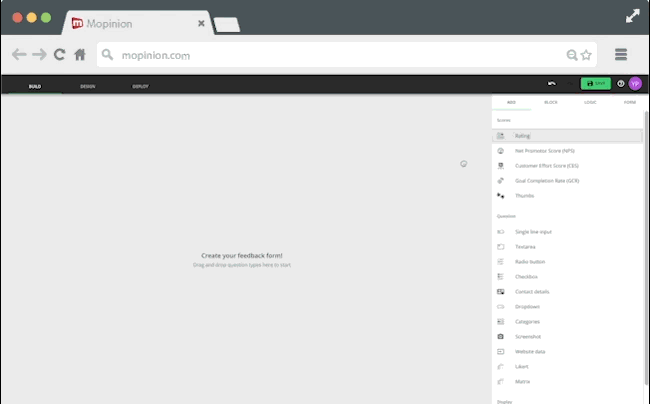 Interactive and less clicks…
As you can see, all your same feedback form elements are still there. The only difference is that now they are easier to find and easier to apply, with less clicks and a better (and live) overview of your feedback forms.

In the coming weeks we will slowly unveil more new and improved components of Mopinion Raspberry, so stay tuned!


---
We are looking for beta testers!
[For existing customers only]